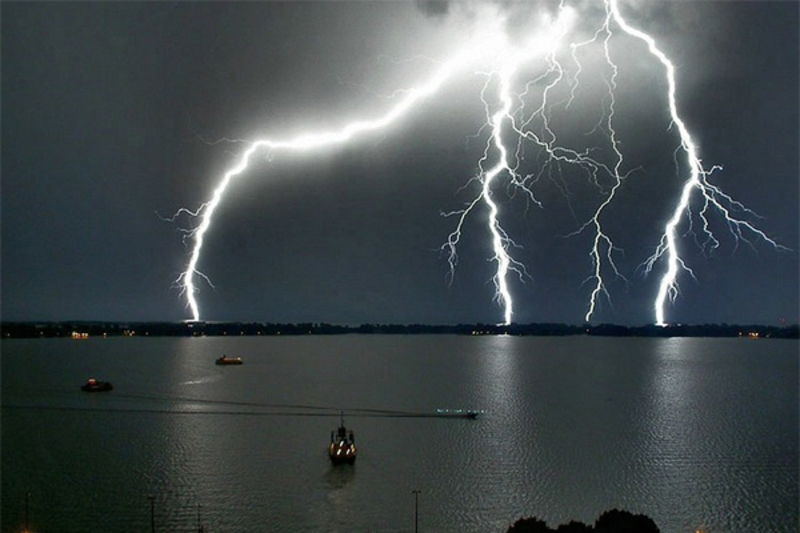 The First Sunday of Advent ~ "Birth Planning: Purposeful Preparations"
Isa. 2:1-5 & Mt. 24:36-44 ~ Rev. G. Scott Turnbrook ~ Northwood United Church ~ December 1, 2019
A flash of light ripples through the sky and a thunderous 'boom' shakes the foundations of your home. The show has begun! A thunder and lightning storm is such a rarity in the Lower Mainland. So, when it occurs, we want to take it all in. We don't want to miss a moment. After the first lightning flash alerts us to the show's commencement, we prepare for its second act. As always, we have a lot to do; and we can't stop life altogether; but we remain on alert. So, we try to keep our eyes and ears open; we remain on the ready. We train one eye on the window, lest we miss the next part of the performance. We turn the radio down as we prepare for the next thunderous boom. We prepare for the glory and grandeur of the unfolding of this display of sound and light.
Now, preparing for a thunder and lightning storm is very different than how we often prepare for Christmas. Preparing for a thunder and lightning storm is different, in fact, than most things. The storm is unexpected and it cannot be anticipated. Ready or not, the storm arrives in all its glory. We don't know when it will begin; we don't know how long it will last; we don't know when it will conclude. We stand, as much as we can, on the ready. Our approach taken in planning for Christmas tends to receive a very different approach. Planning for Christmas is something we 'think' we know how to do. But, I'm not sure about that. Consider how 'odd' December is. People spend more time, more money, more stress, more anxiety on preparing for Christmas than any other event that I can think of. There were some disturbing stories, yet again, as 'Black Friday' shoppers demonstrated savage behaviour fighting among themselves for those Christmas deals. December is an odd time. People fight over parking spaces at the mall. We battle to ensure a perfect Christmas. And our stress levels heighten as expectations mount for us to have 'the perfect Christmas'. And there is that growing feeling in our world that there will not be 'enough': the tree is not overflowing with 'enough' presents; the table will not be overflowing with 'enough' food; the guest list is missing that special someone. We prepare…we prepare…we prepare. Yet we fear that is it will not be 'enough' and Christmas will not arrive as it should. As we enter December's season of advent, I think there is a call for purposeful preparation.
Some of us might hear this morning's text with 21st Century ears and judge it as "odd" or perhaps as being 'much ado about nothing' in this modern era. End of the world apocalyptic talk does not resonate with many of us, perhaps? Talk about Noah and the judgement of the nations or about a sleepy householder leaving their house unguarded…these seem to have little resonance with our modern day lives. Yet, despite the strangeness of these texts to our modern-day ears, and despite a wise measure of caution born from the dubious usage of texts such as these in the past, I would like to suggest that this sort of apocalyptic language should inform our Advent preparations. Why? Three reasons, really…Firstly, the text has this theme of apocalyptic judgment both at its beginning and its end. Apocalyptic judgement are the bookends around which this text is built. We can't, and shouldn't, miss it. Secondly, we read this passage because this concept is a part of our sacred story. If we were to avoid all the passages that do not sit well with us, we run the risk of domesticating our faith story into a 'feel-good Kool aid'. We would lose scripture's capacity to confront us, to read us as we read it. And, finally, the reason that texts such as this are so important is that notions of decision and judgment are a necessary part in our understanding of way of God's grace. The great 20th Century theologian Karl Barth is remembered as noting that, as Christians, "we live between the times" By way of contrast to many Eastern faith traditions which view time as an endless cycle of birth, and death and rebirth; our Christian story begins with creation and ends with judgement and re-creation. And it is through these pivotal evaluation moments like Noah and the flood, as well as the everyday moments (that the text describes as) "grinding meal" or working "in the field" that judgement occurs. We are invited to 'take stock' and ensure that our actions are in line with who we are as people of faith. We are charged as disciples to not just live for a future time but to live and serve and celebrate in the present.
So, how might we wander through this season of Advent? Getting back to the thunderstorm…I wonder if the foundational message of this morning's text is a call to enter into this Advent season in a similar way. We prepare for the uncertain arrival of a thunderstorm, living with expectancy, living on the ready…preparing, but always on the ready, in this season. Advent is not simply a prelude of waiting around until Christ's arrival. Advent is a season that invites us to grow as disciples who anticipate the coming with each breath we take. With each breath taken…a little more prepared. But always on the ready…embracing and savouring each moment as a 'Christ moment' unto itself. Each moment of preparation….an opportunity to receive Christ's presence. Each moment…not a rehearsal…but real life where Christ is slowly breaking in.
This is a big alternative to how the world prescribes our mode of preparation. Purposeful preparation…living in the moment…stands in stark contrast to preparing with precision for a December 25th arrival of a 'picture-perfect' Martha Stewart Christmas. I think that there is a spiritual danger contained for us when we spend so much time preparing for a coming date and don't embrace the present moment. The danger is that we might actually miss the birth that is happening right here and right now. Advent is not just a prelude time that we wait for the 'main event' on the 25th. Advent has the potential to be a deep and nourishing spiritual season unto itself. I received a gift basket this year. It contains a little treasure to be opened each day through Advent. Certainly, the 'big gift' occurs at Christmas, but each day provides a gift…a little birth…that is yearning to be embraced and unwrapped. What I truly love about Advent is that it has the potential to shape us into thoughtful disciples who actively see the coming of the Lord in the day to day moments as well as in the 'big one' as well. What if we spent so much time pre-occupied with the busyness of preparation that we lost the joy and the meaning of the season altogether? What if we missed the births occurring all throughout the season? Our faith is guiding us towards the way of purposeful preparation over these coming weeks ahead.
Of course, these thoughts I share will be among the biggest challenge that you will receive this season. It will be harder to adopt purposeful preparation and stay 'present' in this season than it will be to find a parking spot at the mall or the get the perfect gift for crazy uncle Ted or to find time to get all your baking done and your house cleaned. But…what if this really is the meaning of the season? What if you searched your soul and found how you truly need to do to grow this season? If we didn't get a strong enough message in Matthew 24, then we only need to keep reading to be reminded of the importance of purposeful preparation. Flip to the next chapter and Jesus will tell not one, not two, but three parables about readiness and judgement. Ten bridesmaids waiting for the groom to arrive. Five were ready with lamps filled with oil. While the other five went away to refill their lamps, the groom arrived and they missed his arrival. And then, the parable of the talents. The master of the house leaves for a journey and disperses his wealth to his servants to invest. He celebrates those who made good use of them and condemns those who hid them away awaiting his return. And finally, the passage entitled 'the great judgement' where we are judged based on how we treat others in the day in / day out moments of our lives. For in the treatment of the lowest and the least that we offer that care to Christ. 'I was in prison and you visited me; I was naked and you clothed me; I was hungry and you fed'.
Advent's December provides a beautiful opportunity to experience the coming of Christ each day. Purposeful preparation allows us to be ready for those 'birth moments' that will occur. Tender moments spent unwrapping Christmas ornaments that remind us of days in the past. Precious moment serving those in need. Treasured moments of grace and kindness that we find in the eyes of a stranger. And maybe even…surprising moments…when you receive a knock on the door and you take a chance to go…and open it up…and see what surprise God has for you this day…perhaps you might open the door and find Christmas carolers yearning to sing of the joy of Christmas that is being born today.
Amen.