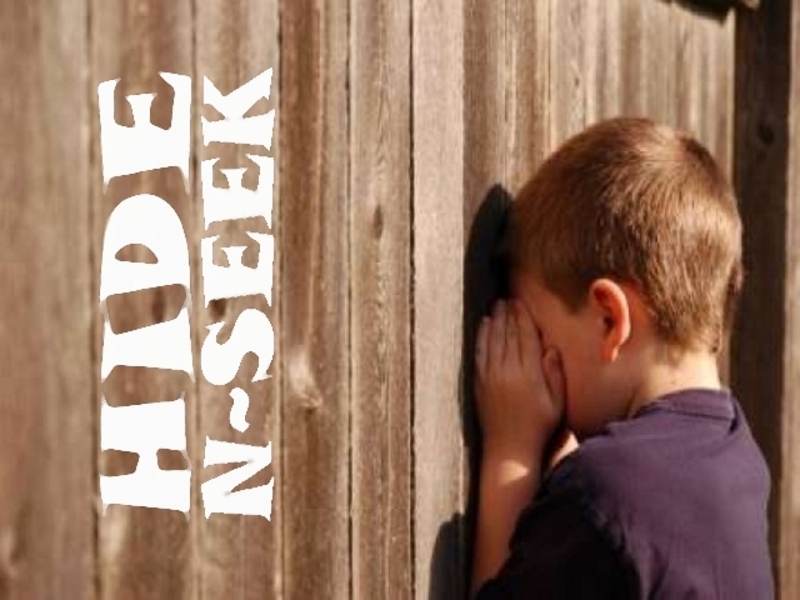 "Hide and Seek"
Luke 15: 1-10 ~ Northwood United Church – Rev. G. Scott Turnbrook – September 15, 2019
Hello, my name is Scott and I am a sinner. Try saying that with me…'Hello my name is _____ and I am a sinner.' My name is Scott and I am a sinner. How does that make you feel? Does it make you feel bad? Do you feel ashamed? Or is there a comforting element in this opportunity to share the depth of our humanity? All our life, we are taught to make a good first impression…to put our best foot forward…to put on a happy smile as we go on with our day. This morning's text, encourages…in fact it calls us to come before God with our whole humanity: the saint…the sinner…and all parts in between.
I was attending church last Sunday night at a friend's church. The church is unique in that their evening service is a ministry devoted towards people recovering from addiction. At 'Recovery Church', busloads of men and women gather from addition houses for worship: to receive the transforming presence of the living God in their lives. He starts the service: "We don't care if you had a needle in your arm yesterday, the important thing is that you are here today. You are welcome here in Jesus' community!" Last week's service included baptism and sinner after sinner shared parts of their amazing journey to recovery…parts of their story of God's power in their life…parts of their story of how God had found them. They have small joke at the church as their location is adjacent to the high school, whose sign reads: "Langley Secondary School: Home of the Saints". They joke saying that they should change their sign to be: "Home of the Sinners". It hasn't occurred yet on their signboard; however, it has long since become a part of their ministry in acknowledging one's brokenness and division from God and experiencing the profound grace of a God who seeks out the lost and welcomes them home. There was Good News in saying "I am a sinner" because it expressed the nature of God who seeks us out where we are lost and finds us, one and all.
And this is why going to church is so powerful, so dangerous, so life changing. I believe that if our faith does not transform us, then we are doing something terribly wrong. If we are not changed spiritually, as we work out our faith in community, then the church is failing. If we do not feel called, claimed and commissioned to be extensions of Jesus' living body, then the church is missing its mark. Last Sunday, we gathered for 'Welcome Back Sunday' and we were delighted to reconvene as community and see friends who are truly spiritual family. And even more than that, we were greeted by the Gospel Good News found in Jeremiah's prophesy of how we are being shaped. Jeremiah offers the image of the potter shaping the clay into a new creation ~ smoothing out the imperfections…reshaping us further into the image of God. 'Church' is a transformational expression of God's love, of God's call, of the Way of Christ. 'Church' is that community that lives out the gospel where we can gather, in faith, and say "I am a sinner" knowing that God welcomes us home with healing and hope.
And this is why this morning's parables are so truly powerful for us to hold in our faith and allow them to guide us and shape us. In a provoking sermon preached back in 1620, Lancelot Andrewes spoke about these two parables in this way: "He is found of them that seeke Him not, but of them that seeke Him never but found". As we explore the parable, we find that it is not in seeking God, that God is found ~ "[God] is found that seeke [God] not". We will never find God through our efforts; we will never find God through our faithful works; we will never find God through how good and wonderful and 'saintly' we might be. "He is found of them that seeke Him not". Rather, this parable teaches us that the nature of God is in being the seeker who relentlessly searches after us. We discover, in our faith journey, that God's nature is to seek the lost – as the shepherd searches for his one lost sheep – as the widow tears her home apart searching for the one lost coin. God's economics make no sense. The shepherd had 99 sheep safely in the pen; the widow had 9 of her coins. 99 out of 100…9 out of 10. That is good work by any human measure. 99% in one case and 90% in the other. It makes no 'human sense' to go after the last one, yet it makes sense to God. This is why there is tremendous Good News found as we gather in spiritual community saying: "I am a sinner" knowing that God searches us out and yearns to bring us home.
I sift through spiritual journals through the week and came across an interesting dilemma posed to law enforcement. One church called the police to have an individual removed from their worship gathering during communion. In this church, they had a number of rules in order for a person to qualify to receive the bread and wine of communion. The person in question had decided to take the wafer he received, and then proceed to break it in half and share it with an individual who was excluded. We have some law enforcement officers here among us this morning. Could you imagine receiving this call? This parable was offered as a response to people coming near to Jesus because of the threat that this posed to the religious officials of his day. It opens: "Now all the tax collectors and sinners were coming near to listen to him. And the Pharisees and the scribes were grumbling and saying, 'This fellow welcomes sinners and eats with them.' While we do not want to take away the sacred moment of communion, how do we get past the threat of Jesus "coming near" all people and allow Jesus' way to be available to all. Some of us will refuse to attend a religious symposium that does not have representation of gender and ethnicity from the presenters. Some of us find ways to have solidarity the LGBTQ2+ community by flying a rainbow flag at our churches. The question becomes, as ones who shape the church ~ the body of Christ in this part of the world ~ how do we ensure that we are a place that models God's amazing nature of welcoming grace.
How wonderful was it, this morning, to finally share in the Good News of the addition to the Hammoud family as they welcomed baby Taim to the world? Apart from his heavy birth weight of 9'6 for poor Rasha, it is tremendously good news! Can we think back, for a moment, to the original call that Northwood, Colebrook and the Vancouver donors felt to welcome this family. To be agents of welcome and hope and hospitality…bringing them to a new land. Do we remember the initial fears the Hammouds felt? Settling into a new land…Being caught travelling without the proper papers… Speaking a foreign language…getting a driver's license…gaining employment…Yet God searched…God searched…God worked through us and brought them to a new land, and even gave them the birth of a child! Hallelujah!
When we think of this area, we might think of the joy that we have taken part in when we have offered a ministry of Outreach. I'm thinking, for example, of our Outreach ministry through the Hot Lunch program when we would cook up all that hot stew and served it to the grateful folks at Whalley's tent city. A little tired, but we all walked away from our morning feeling incredibly grateful for the opportunity to live out our faith. Recipients would say 'thank you', yet in our prayers at the end we would say: 'thank you God for this opportunity to witness your grace'. The same kind of feeling occurs through our efforts with the Shoebox ministry when we box up hundred of shoeboxes for people spending much of their life on the street; it happens with our Food Pantry; it happens in so many dimensions of ministry. The other side of it; however, and this is the harder side…is for us to be the recipient of God's searching, to be the recipient of God's grace and care. That wonderful interpretation of this parable: "She is found of them that seeke [God] not, but of them that seeke [God] never but found." The true gift of God is when we realize that God has been seeking us all along, whether we knew it or not!
One of the all-time popular TV shows was "Cheers". Cheers commenced in 1982 and ran for 11 seasons, occupying the top 10 ratings during eight of those seasons. Cheers occurred in a simple setting…a bar in Boston called "Cheers". It was a place you could go where (as the saying goes) 'everyone knows your name'. One of the signatures for the show was the entrance of Norm to the pub. As her entered, the entire pub would exubarantly shout: "Norm!". The reason that show was so popular, I think, is because we are drawn to the image of a community where 'everyone knows your name', where we are welcomed by name, unconditionally – whether we are 'saint' or 'sinner', irregardless of our ethnicity, our gender, our sexuality. And that is what the church is called to be. A place where all are welcomed home. Did you notice what occurred after the recovery of the lost coin and sheep? Rejoicing…there is joy…there is a party. God wants to throw a party of welcome and hospitality through the ministry we offer…through the ministry we receive. Let us move into this September celebrating a God who knows each of our names – 'saint' or 'sinner' – who knows our name and calls us to rejoice in the party we call life.
Amen.